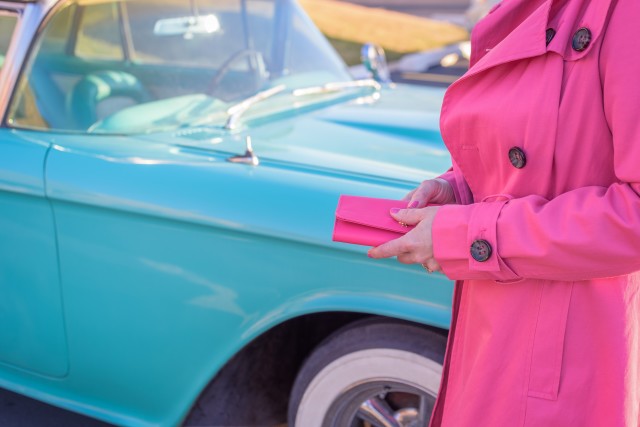 Pentagon Federal Credit Union (PenFed) is a military credit union. However, they do allow some civilians to become members.
Just like other credit unions who make money off the interest rates and original loan amounts, this financial institution takes that earned money and offers special rebates and discounts to their PenFed members.
Penfed Credit Union caters to military personnel and provides financial services (credit cards, savings accounts, and checking accounts as well as different loan types) for those service members going through hardships or serving away from home.
Table of Contents:
How PenFed Auto Loans Work
How Much Can You Borrow?
APR
Fees
Pros & Cons
How PenFed Auto Loans Work
You can apply for a PenFed auto loan online (www.penfed.org), through fax, or in the mail.
These paper and online applications are available to current members as well as prospective members as long as they meet specific financial product requirements.
Once you choose your loan category (personal loans, used auto loans, new auto loans, and refinance loans), click "Apply Now" on the auto loans page of their website.
If you're already a member, you can log in, and it will help you populate the information it already knows.
Fill out the loan application, including your desired loan amount, valid social security number, income, and contact information. PenFed will let you borrow up to 110% of the purchase price of your new or used car.
If you've been a member of PenFed for at least 90 days, you can get your pre-approved loan rates before you negotiate any loan terms.
PenFed loans are insured by the National Credit Union Administration, which is similar to what the FDIC offers to banks.
PenFed Auto Loan Amounts
The amount you can get approved for will depend on your credit history and your income, but the minimum loan amount is $500, and the maximum is $100,000.
PenFed has one of the lowest minimums of any other auto loan lender, which is convenient for people who don't need to borrow much.
Car loans with longer terms come with different loan and down payment minimums than short term loans. You may find that the minimum you can borrow rises as you extend your loan term out farther.
It could raise your minimum from $500 to as much as $9,500 in some cases.
Ads by Money. We may be compensated when you click on this ad.
Ad

Compare Auto Loan Rates in Your Area Select Your State to Get Started Hawaii Alaska Florida South Carolina Georgia Alabama North Carolina Tennessee RI Rhode Island CT Connecticut MA Massachusetts Maine NH New Hampshire VT Vermont New York NJ New Jersey DE Delaware MD Maryland West Virginia Ohio Michigan Arizona Nevada Utah Colorado New Mexico South Dakota Iowa Indiana Illinois Minnesota Wisconsin Missouri Louisiana Virginia DC Washington DC Idaho California North Dakota Washington Oregon Montana Wyoming Nebraska Kansas Oklahoma Pennsylvania Kentucky Mississippi Arkansas Texas GET STARTED
PenFed Auto Loan APR
PenFed has competitive rates for new car loans, used car loans, and refinancing.
In other words, you aren't limited to the dealership loan rates or even other online marketplaces like LendingTree.
As of 12/23/20, rates start at 2.14%. But the lowest rates will depend on your credit report and your income.
Your interest rate will vary based on several different factors.
Higher rates go towards individuals will moderate to low credit scores, and lower rates go towards individuals with excellent credit.
If you stick to the PenFed Car Buying Service, you could qualify for interest rates as low as 1.39% on a new car.
They classify new cars if the model year is within the current year, and used vehicles are at least two years older than the current year.
You even get other discounts or reimbursements if you purchase your car through a certified PenFed dealer.
PenFed Fees
PenFed does not charge an application fee, origination fee, or a prepayment fee.
But beware that once you get your loan paid off, you'll still have a savings account with PenFed.
If you forget about your savings account, it will go into an idle state and start accumulating fees. You either need to close it or continue using it.
Pros and Cons of PenFed Auto Loans
Here are some pros and cons to evaluate before choosing PenFed.
Pros:
Low APR: PenFed offers incredibly low rates starting at 1.39% in some cases. That's competitive in today's market and an excellent option for people with awesome credit and the appropriate qualifications.
Car-buying Service: PenFed's car-buying service offers lower interest rates and the convenience of finding your car without having to go anywhere.
Payment Saver loans: The Payment Saver loan offers reduced payments for those who can't afford the repayment of a typical loan. It helps you get deals that fit in your budget.
Hardship relief: We can't predict what happens in life, and sometimes life spins out of control. PenFed offers hardship relief to those who are having a hard time making their payments. The hardship assistance program requires you to fill out a few documents to get qualified.
Extended warranties: PenFed offers three different extended warranty options with $0 deductibles and roadside assistance.
Borrow up to 110% of the purchase value: PenFed allows you to borrow up to 110% of the purchase value of your new or used car. This process helps you offset the cost of other expenses like sales tax, registration, and anything else that comes with buying a new car.
Loan extensions after 12 payments: After making 12 successful, on-time payments on your loan, you may qualify to extend your loan term back out, which would lower your payments. It's a good option for those having financial difficulties.
Cons:
Preapproval for members only: You have to be a member of PenFed for at least 90 days before you can get preapproved for a car loan.
Longer terms come with higher minimums: If you need a longer-term for your car loan, the minimum borrowing amount is much higher than on short term car loans. It's sometimes as much as $9,500 rather than the $500 minimum on short term loans.
The maximum term is 60 months: Other lenders will let you extend your term out to 72 or 84 months. But the most extended term PenFed offers is 60 months, which makes your monthly payments higher on more significant amounts.
Payment Saver loans have balloon payments: If you need a break on your monthly payment, a Payment Saver loan could be a good option. But the final payment is typically large, and refinancing is rarely an option.
Potential fees: If you let your savings account go inactive after you're done repaying your loan, you could begin to accumulate fees for inactivity.
Few physical locations: Getting approved for a car loan online can be convenient. But when it comes to needing a physical branch for certain activities, you'll be hard-pressed to find one. PenFed has fewer than 50 brick and mortar buildings in total.
Is a PenFed Auto Loan the Best Choice For You?
Because PenFed targets consumers with credit scores of 700 or above, it can be challenging to get approved if your credit score is below that, even if you're a member.
They also don't have very many branch locations and can be hard to contact with questions if you're not already a member.
However, if you qualify for membership, PenFed has some excellent financing options at competitive rates. The whole process can be done online, and you get the many perks that come with membership to a credit union.
PenFed Auto Loan
3.8